PCAN and Kirklees Children with a Disability are running four events to help you find out about help that's available for families in Kirklees.  We would also like some feedback about the services or activities that you access and what you think of them.  It would be great if you could tell us to what works, what could be better and where the gaps are so we can work with the Council to improve support and activities for families of children with additional needs and disabilities. Dates and times are below.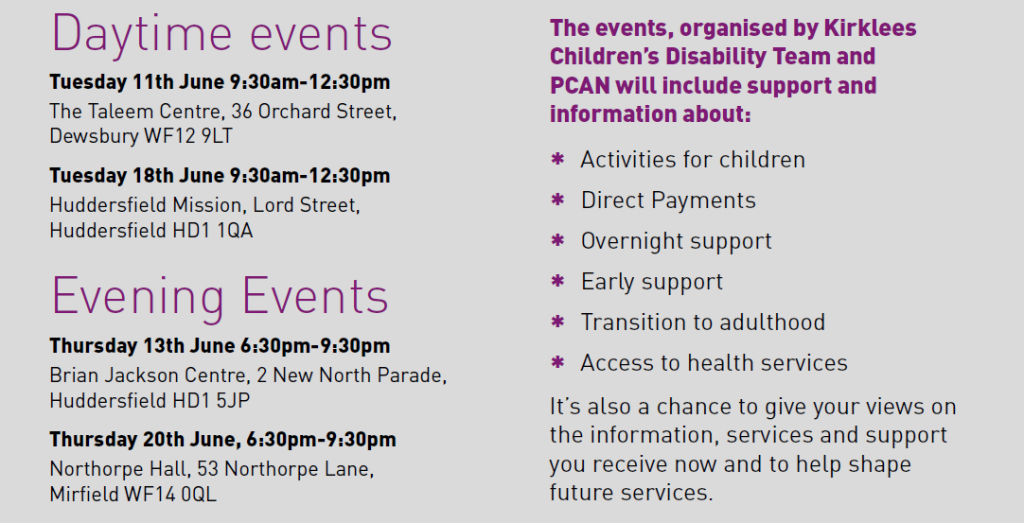 You can choose 3 out of 6 workshops that will be running at each event. They are your chance to get information, ask questions and share your views. You are welcome to attend more than one event if that helps you. The 6 workshops are:
Activities for Children
Learn about what activities are available and how you can access them, eg. Sprout, Compass Bridge, Shabang. If your child already attends some of these activities, please share your views on how well they work for you and your child.
Direct Payments
Find out what a direct payment is and how you can access them. (Direct Payments are available if you are eligible for social care services).
Tell us about how you think a direct payment can be used to help families.
Overnight Support
Overnight support is available if you are eligible for social care services. Please come along and tell us what you think about what is currently available; could it be improved, have we missed anything?
Early Support
If you are not eligible for social care services, this workshop will tell you about support that is available. Tell us what you think would help your family.
Transition to Adulthood
This workshop is about moving from children's to adults' social care services. Moving on – Growing Up are challenging times for young people and their families; let's talk about the things that can make a difference, the support available, and how social care can help with planning the future. What else do we need to think about?
Access to health services
We are talking about health, how to access health support, and learn about services that are commonly accessed by children with a disability and their families. Eg. School nurses, health visitor, GP, therapy services.  (This workshop is not about hospital-based services). What's missing?
Click here to book a place – choose which event you want and fill in the registration form.
Please contact us if you need further information on 07754102336.
Looking forward to seeing you,
Regards
The PCAN Team
Kirklees Children with a Disability Service